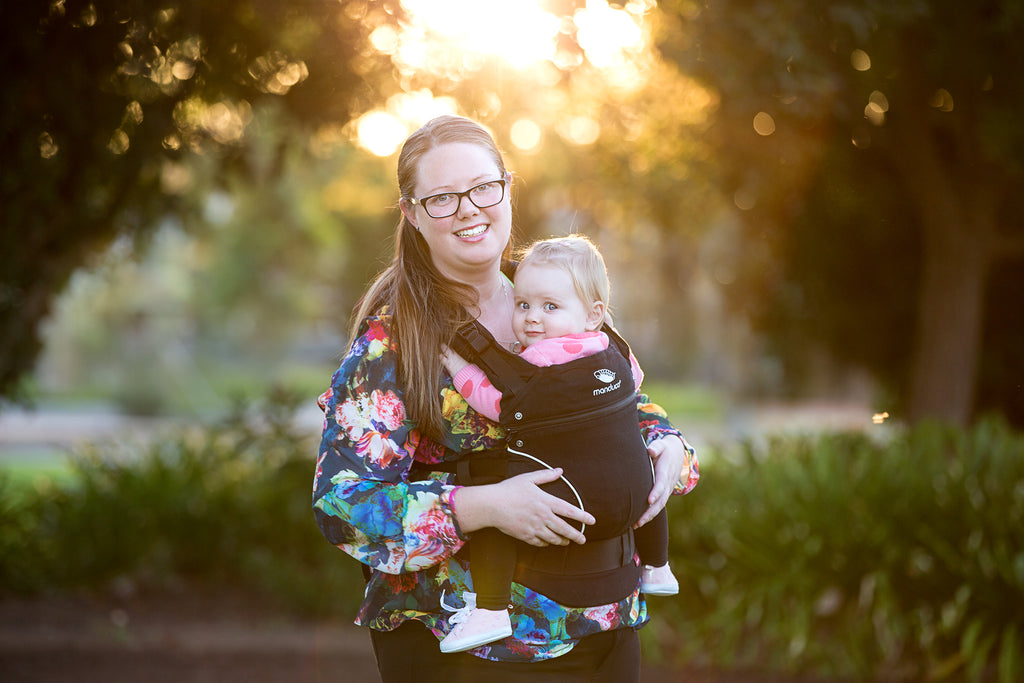 Our beautiful little girl Zoey was born on the 11th June 2016, she came into the world in a rare en-caul birth, it makes her special, but what really makes our little girl special is that she is kicking hip dysplasia's butt!
Zoey's hip dysplasia journey actually starts about three generations before her, with family stories of an elderly great great aunt that had 'bad hips', two great aunts that received spica treatment in the 1950's and 1970's, both her Aunt and Uncle that were treated with double nappies in the 1970's and a cousin that underwent surgery and spica cast in the 1990's. So you see Zoey's story isn't all that unique in our family.
Zoey hips were 'clinically sound' at birth, with no detectable click. But a mothers intuition is often right and an ultrasound at six weeks showed immature joints. By the time we made it to Royal Children's Hospital at nine weeks of age she had only 19% coverage of the left hip joint (a 'normal' hip should be around 70%).  We were told that her hip was unstable enough that it would have impacted her ability to walk properly.  Despite expecting this diagnosis, it hit hard, my amazing husband held it together while Zoey and I just cried as they fitted her with her first Dennis Browne Bar Brace.  We entered treatment like most families, with 24/7 bracing and we came home to Mildura faced with a whole heap of new hurdles, including how to comfortably carry our little babe around. The brace made her awkward and bulky and we mourned the ability to just cuddle our little girl like other new parents. 
Enter Baby wearing.

A good friend and local baby wearing advocate Lauren Southwell, initially helped me out through our local baby wearing group, where I was able to try a couple of different carriers. We were already committed to an overseas trip just two weeks after Zoey's brace was fitted, we needed a solution. I still remember the conversation in Lauren's lounge room, "try these carriers, but I'd really recommend a Manduca, I'd lend you mine but I use mine every day". Lauren suggested I get in contact with Kim Long, our local Kanga Trainer and Manduca/Fertile Mind stockist….. and that was just the best recommendation we could have recieved in our hip dsyplasia journey. One phone call with Kim and she offered to lend us a carrier and fit us properly to accommodate Zoey's brace so we had a solution to get us through our trip while we waited for our own carrier to arrive.

We ended up meeting up with Kim in Melbourne at the One Fine Baby Expo the day before our trip, we were the proud new owners of a Pure Cotton Manduca and we didn't look back! Many 'Hip Mums' will tell you losing the ability to snuggle our babies is one of the biggest hurdles of hip dysplasia, but with Zoey in her carrier I really felt like we got that closeness back. I'm eternally grateful to both Lauren and Kim, without them, we would have had a very different hip dysplasia journey.

And the fantastic news is that just last week we got the good news that Zoey's hips are stable enough that we have finished our bracing journey…. But we'll be using our Manduca for a long while yet!
P.S. Just wanted to say a huge thank you to the beautiful Lauren Southwell from Purely Taken Photography for taking this stunning picture of Zoey and I.